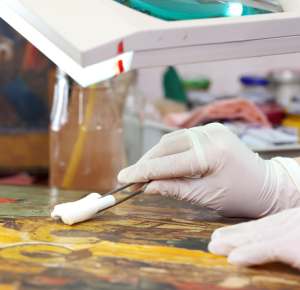 Salary range
Median annual wage: 
$47,360 (2017)
$46,710 (2015)
Museum technicians and conservators: $37,310 (2010)
Federal museum technicians and conservators: $38,790 (2010)
Chemists: $68,320 (2010)
Materials scientists: 84,720 (2010)
Occupational health and safety specialists: $64,660 (2010)
Occupational health and safety technicians: $45,300 (2010)
Roles and Responsibilities
Disseminating Information
Analyzing
Planning and Designing
Assuring Quality
Developing Procedures and Policies
Manufacturing Products
Duties
Document, clean, preserve, and repair works of art, using appropeiate methods. Often, an analysis of the materials used in the artwork and in previous restoration efforts is necessary in order to select or custom-design a restoration method.
Authenticate works of art and other artifacts using laboratory analysis and a knowledge of the materials and methods in use during the relevant period in history.
Develop pigments, dyes, paints, and coatings in new colors or to match precise color specifications.
Develop polymers, resins, alloys, and composites for sculptures and jewelry-making.
Develop new materials for stereolithography (3D printing), improving material properties so that they stand up over time or reduce harm to the environment.
Develop makeup and special effects for theatrical and movie productions using materials that meet safety and toxicity specifications specifications for the actors, crew, and audience.
Design and develop new materials for musical instruments (guitar bodies, drum heads) and sound equipment (amplifiers and speakers).
Develop safety procedures and equipment for use in art studios and the use of art supplies.
Develop and enforce regulatory and industry standards for production, labeling, safe use, and disposal of art materials.
Inform and educate end users about the safe use and disposal of art supplies using printed and online guides and educational workshops and programs.
Professional Skills
Analyzing data
Creating and innovating
Improving processes
Attention to detail
Working with teams
Communication – Written
Working independently